Explaining important Shopivana Settings.
Get complete control over your website functionalities. The platform offers more than 150 features and settings to manage website functionality and appearance.
General Settings
Update business information on your website from general settings. In case you have missed adding the details from 'Shop Profile', you can manage all information from this section.
Step 1: Add Business Details
Go to 'Settings' and under 'General Settings', click on Shop Profile. Like in Shop Profile section, here you can too add and update details like;
Shop Name, Brand Name, Shop Description, Company Tax ID, Contact Address, Shop Email, and Shop Phone (eg 919990009990).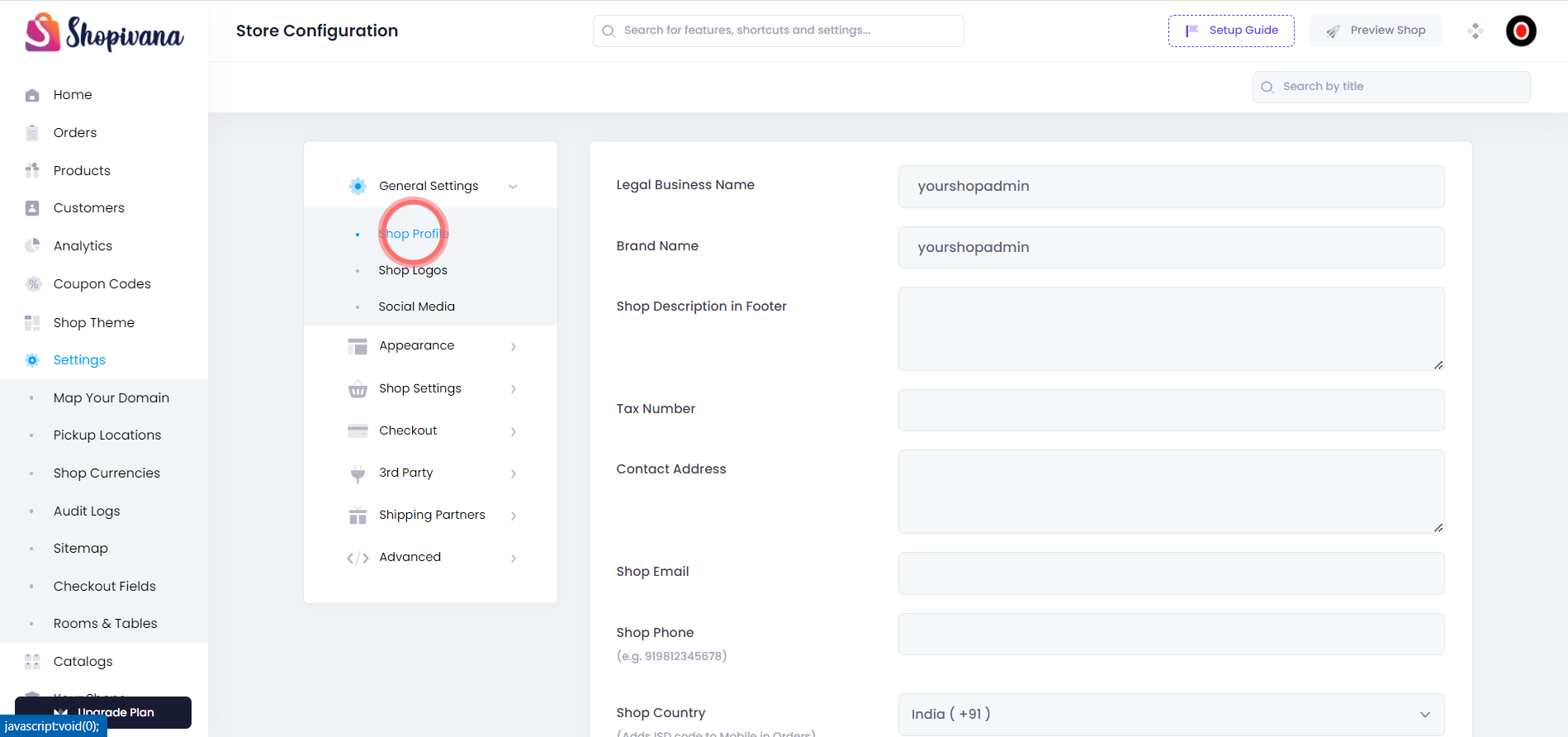 In this section, you can also configure settings like:
Show Products Before Login: If 'enabled', then without getting restricted to login first, customers can view the products. However, in some cases where your business demands to collect the website visitors data, there you can 'disabled' this setting.
Recommended: It's always better to enable this setting to increase the number of website engagement and eventually it will help to boost website traffic organically.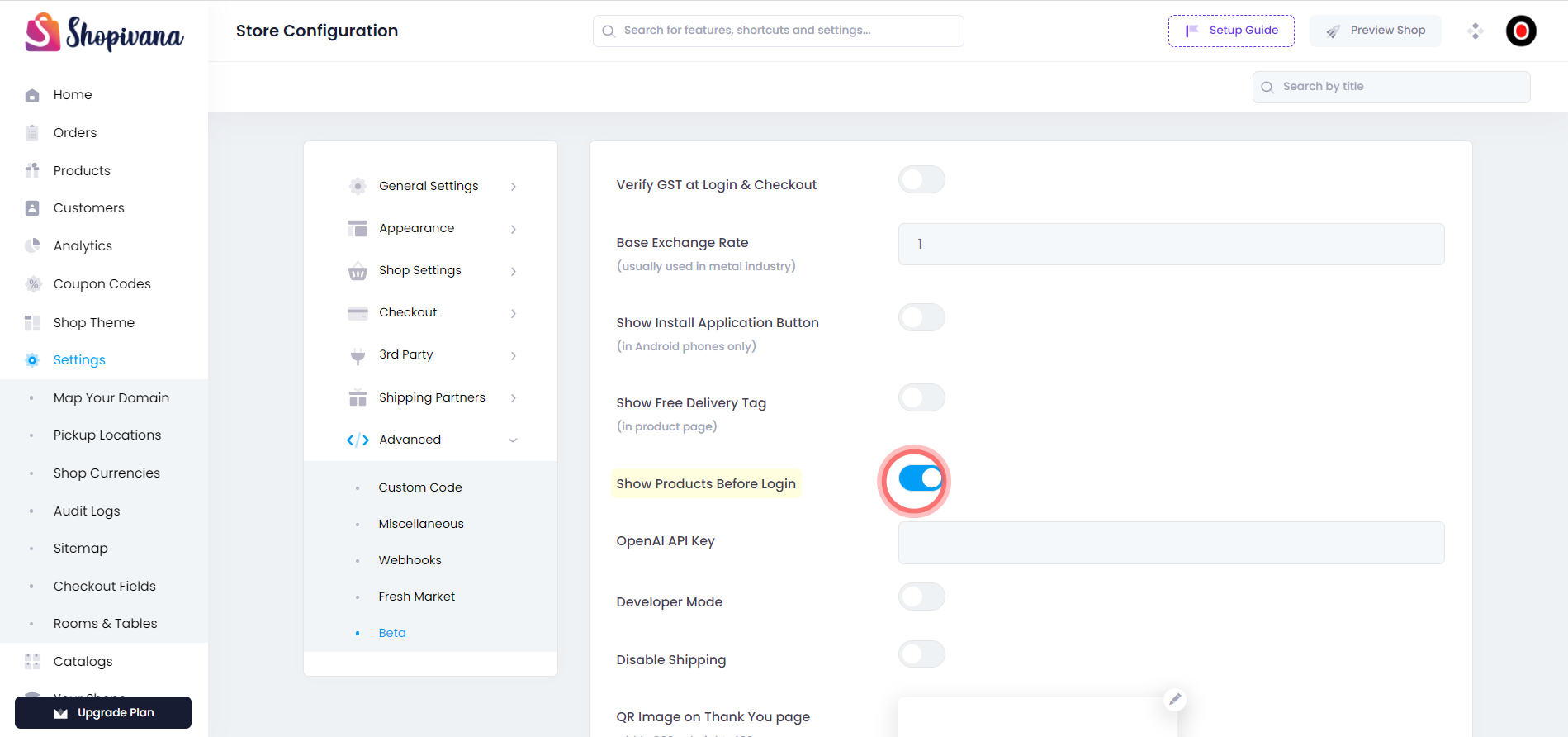 Shop Country: Adds ISD code to Mobile in Orders sections, this will help you to connect with customers using WhatsApp.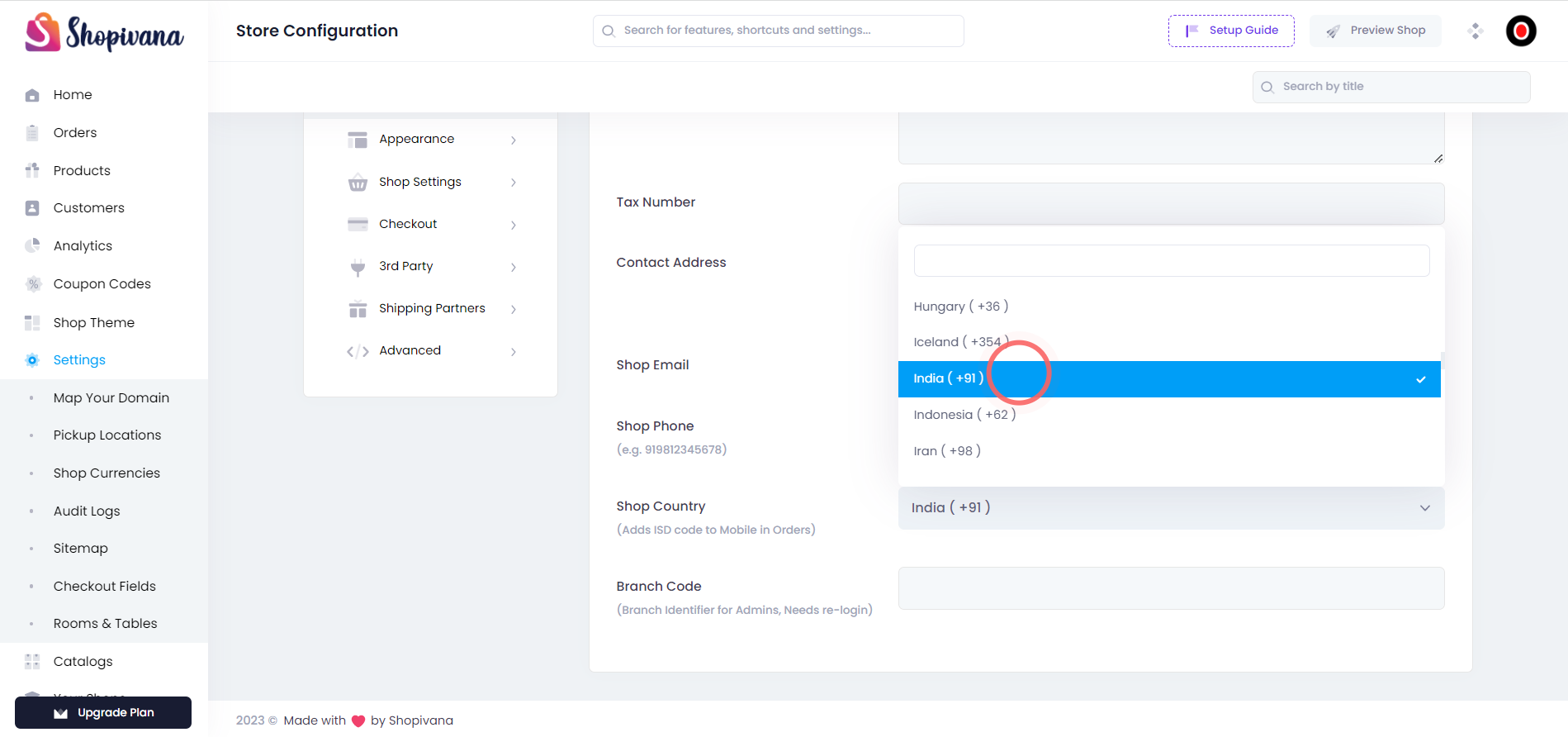 Branch Code: Branch Identifier for Admins, Needs re-login when switching between shops. If you have different shop branches, then you can add labels to identify the shop admin panel.
Step 2: Add Shop Logos
Go to 'Shop Logos', and add logos to be displayed on your website. In this section, you can also add a 'Wide Logo Image For Dark Theme'.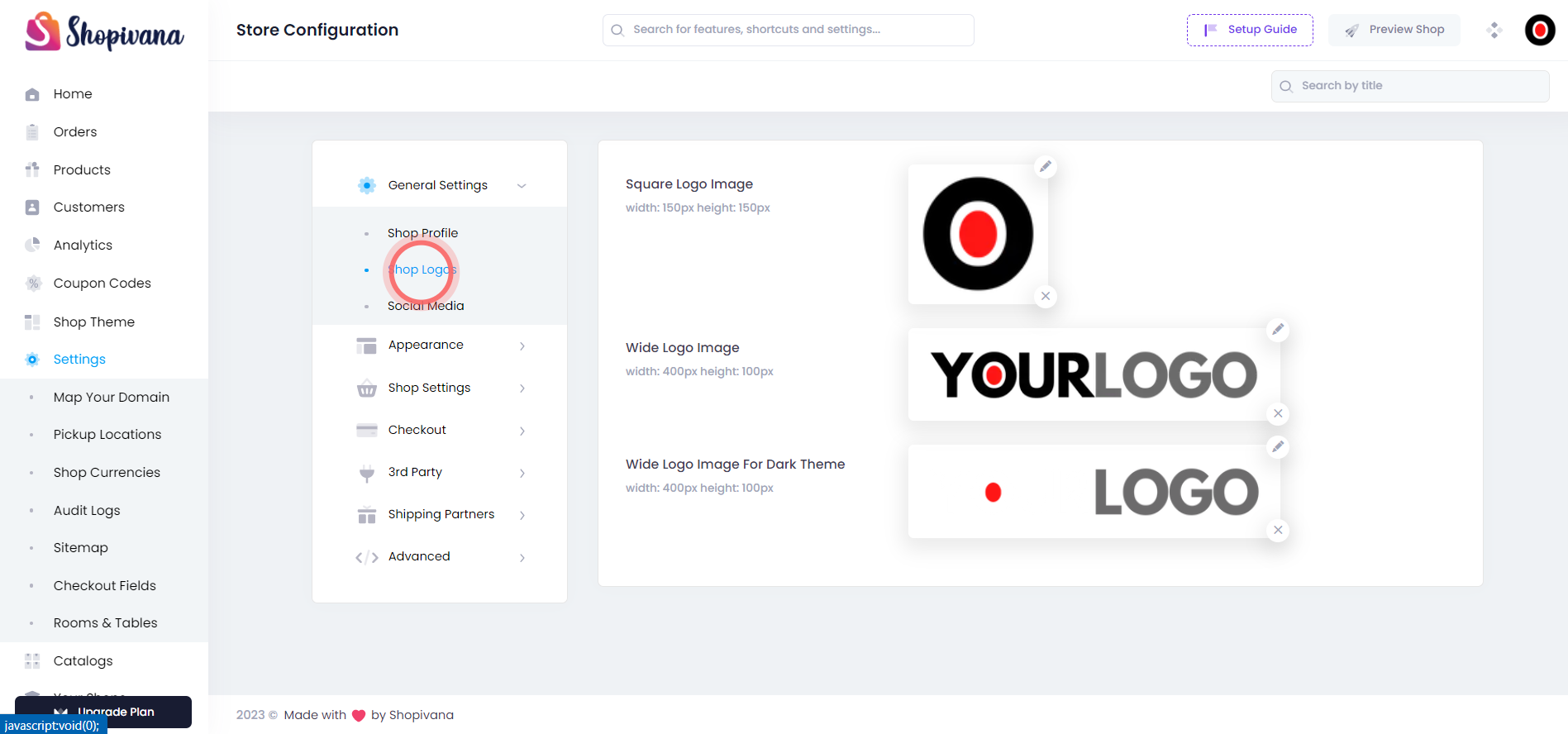 Step 3: Add Social Media Links
Linking back to your website from social networks is the best way to boost your page ranking in terms of SEO and site's visibility. You can increase your page ranking by including links to your social media accounts in the Header, Footer or Contact section of your website.
To add your social media account links:
Go to Settings, click on Social Media under the General Settings tab and Add Facebook, Instagram, LinkedIn, Youtube and Twitter URLs.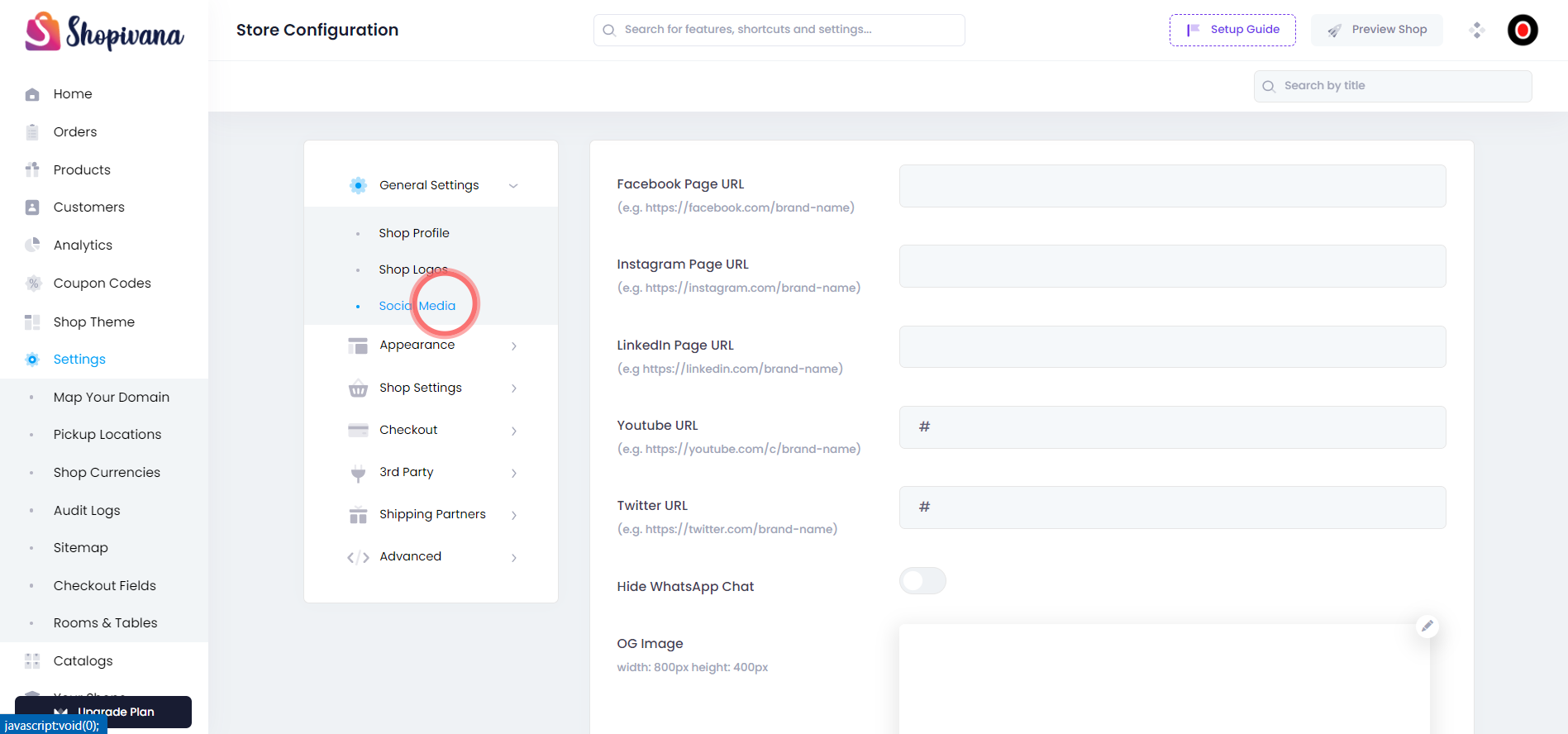 Shop Appearance Settings
To enhance the customer experience on your website, you can update the settings from our easy admin panel.
Shop Theme
Under the shop theme section you manage features related to themes like Theme Color, Shop Font, Section display and home page settings. Let's understand each one by one:
Enable Auto Generate Theme: If enabled, then you can auto generate themes before you go live
on your domain.
Note: If you have already created a theme, then the new theme will overwrite the old changes and
a new version will be created. You can switch between two versions of your themes.

Show Mobile Dark Theme: If enabled, then the website theme will be compatible with the mobile
dark mode.
Primary Theme Color: This theme color will decide the header, footer, font color and button color
on your website.

Secondary Theme Color: This color is applicable to some of the headers, footers and theme
components. In some components, on hover the text color changes, and that color needs to be set
from secondary theme color.

Shop Font: Change the website font style from this section.

Title Underline Height: Set the Section Title underline height from this section.

Title Underline Width: Set the Section Title underline width from this section.



Space Before Section: This section will add space before each section on your webpage.

Space After Section Title: This section will add space after each section on your webpage.

Border Radius: Add border radius on the product card to curve the edges of the card.

Border Color: Add color to the product card border to enhance the product card appearance.

All Products - Show on Homepage: If you want to display your all products on the homepage of
your website before the footer section, then enable the setting.

All Products - Title Position: Align the heading of the All Products Title to Left or Center.

Show Load More Products: If you want to auto load the products on the home page and remove
the product pagination then, enable the button.

Hide Products With No Images: Hide the products that don't have a product image yet.


Left Hand Side Filter: To show a professionally designed side filter for your eCommerce website,
click on toggle button to enable the setting.


Pop Ups




Create a popup that appears the first time a visitor visits your website during a single browsing
session which you can use to deliver special offers or make announcements.
Popups can be very useful for ecommerce or brand showcasing websites.
It can:

Grab People's Attention.
Help Improve Conversion Rate.
Be Completely Customized.
Help in Showcasing Your Brand.
To add popup to your website, follow the below steps:
Step 1: Go to Settings, and click on Appearances.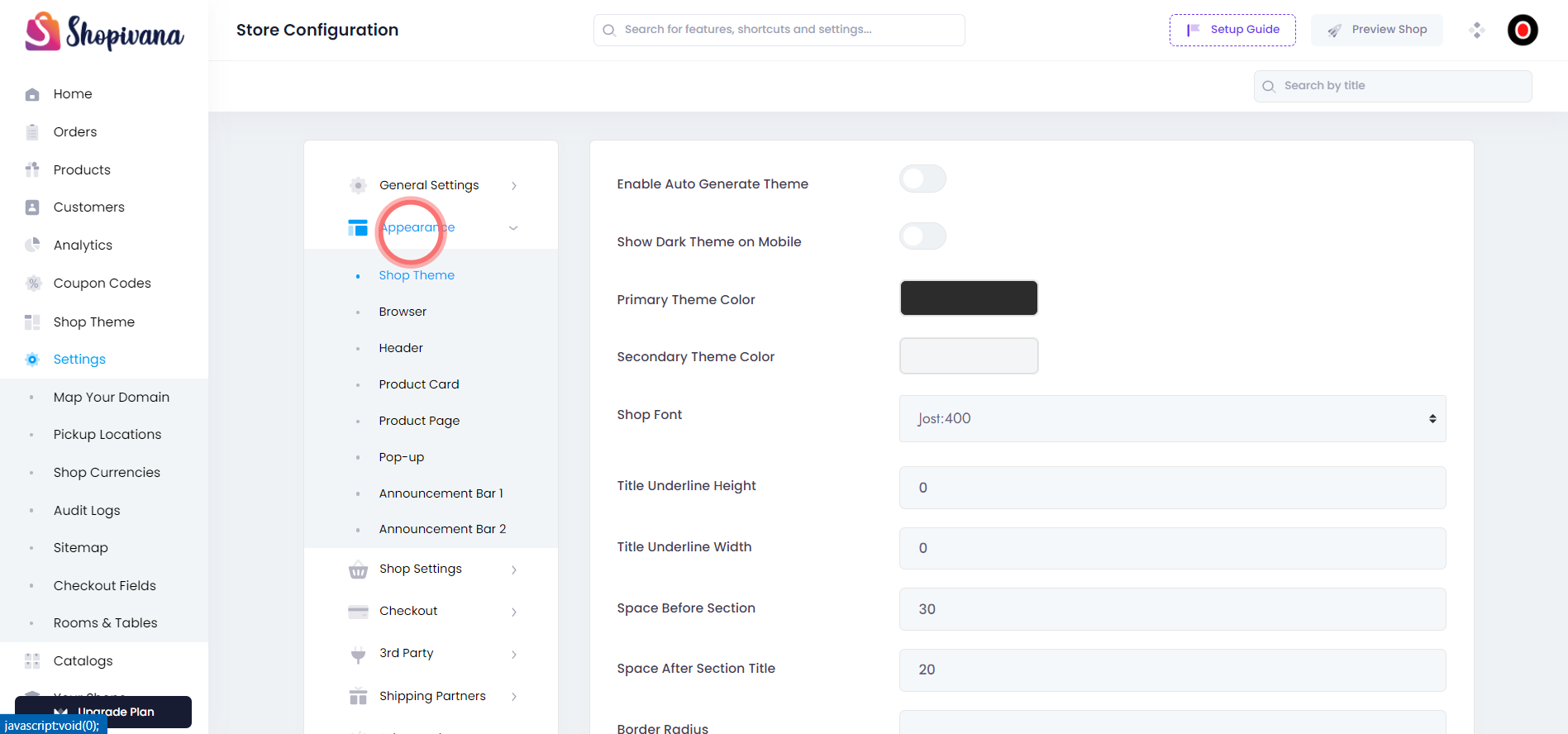 Step 2: Click on Pop-Up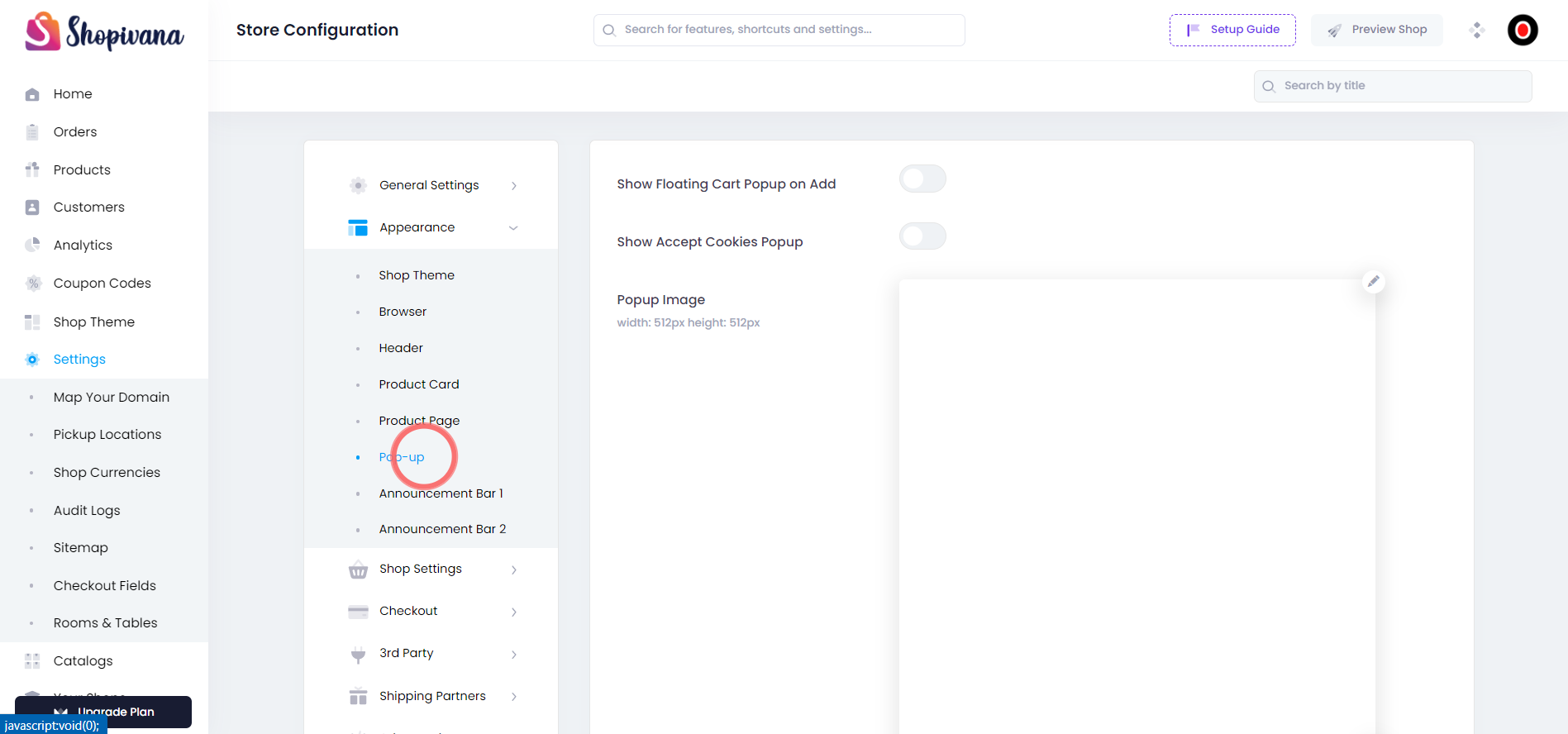 Step 3: Enable/Disable Show Floating Cart Popup on Add & Show Accept Cookies Popup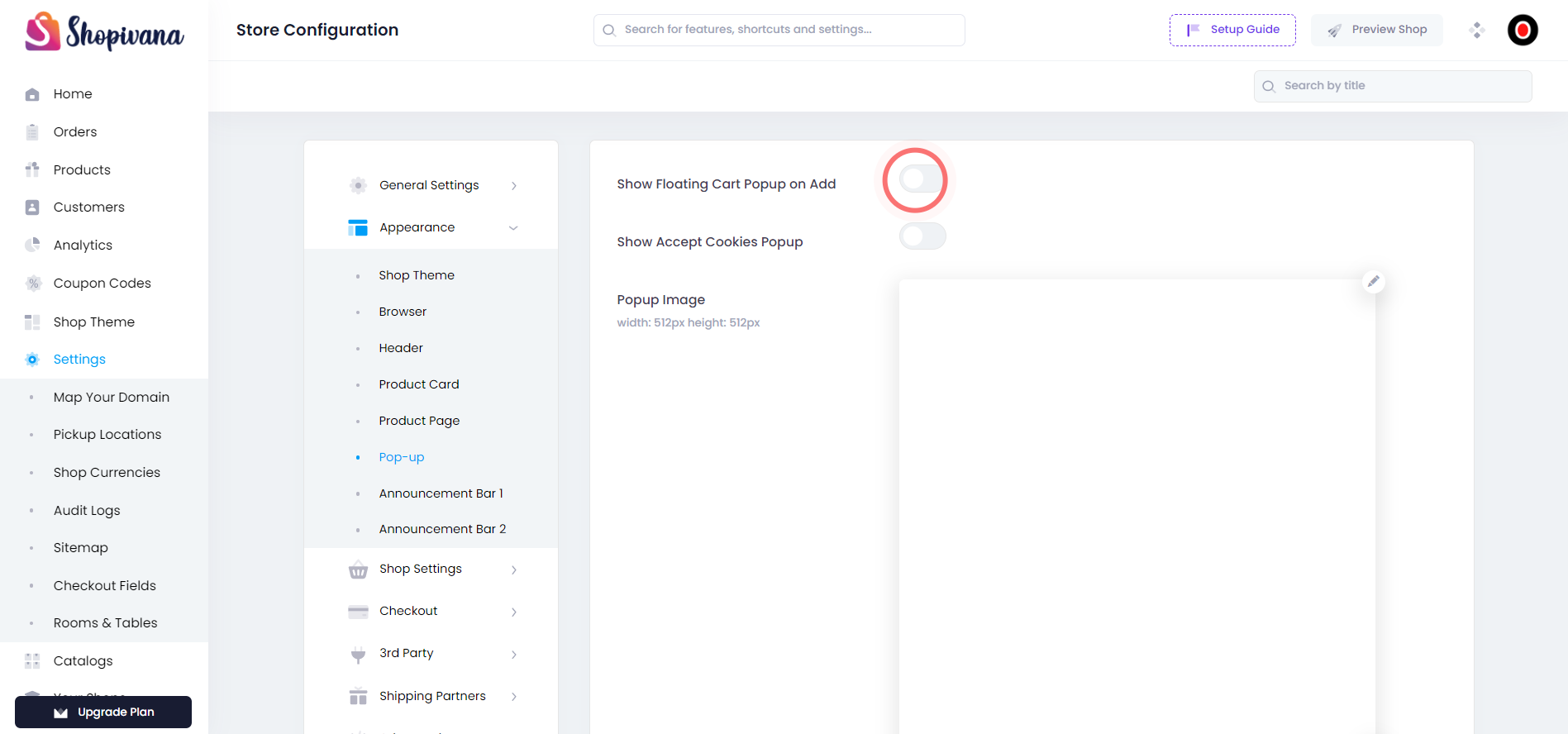 Step 4: Add the Popup Image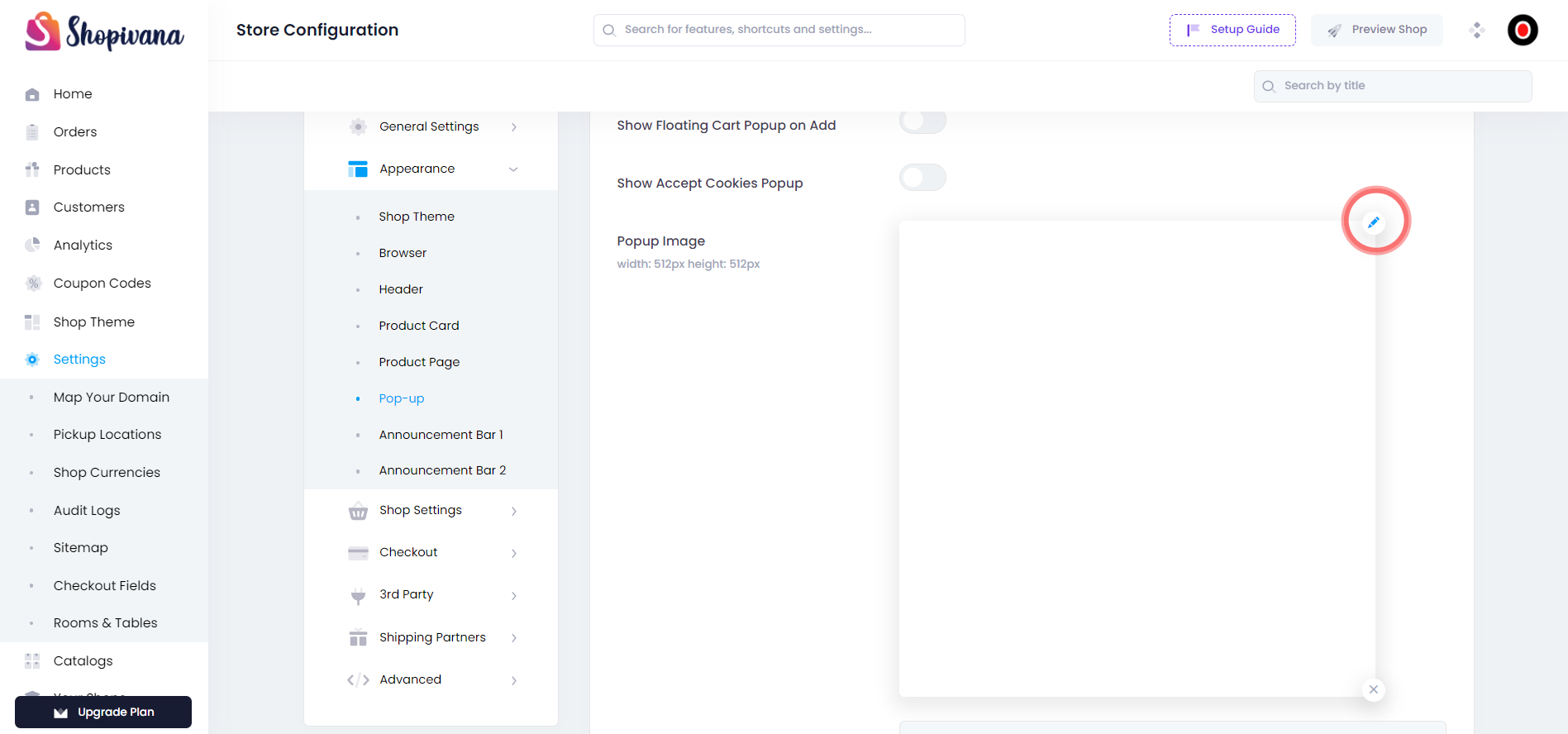 Step 5: Add the name for the Popup Event and the link for Popup Click Action.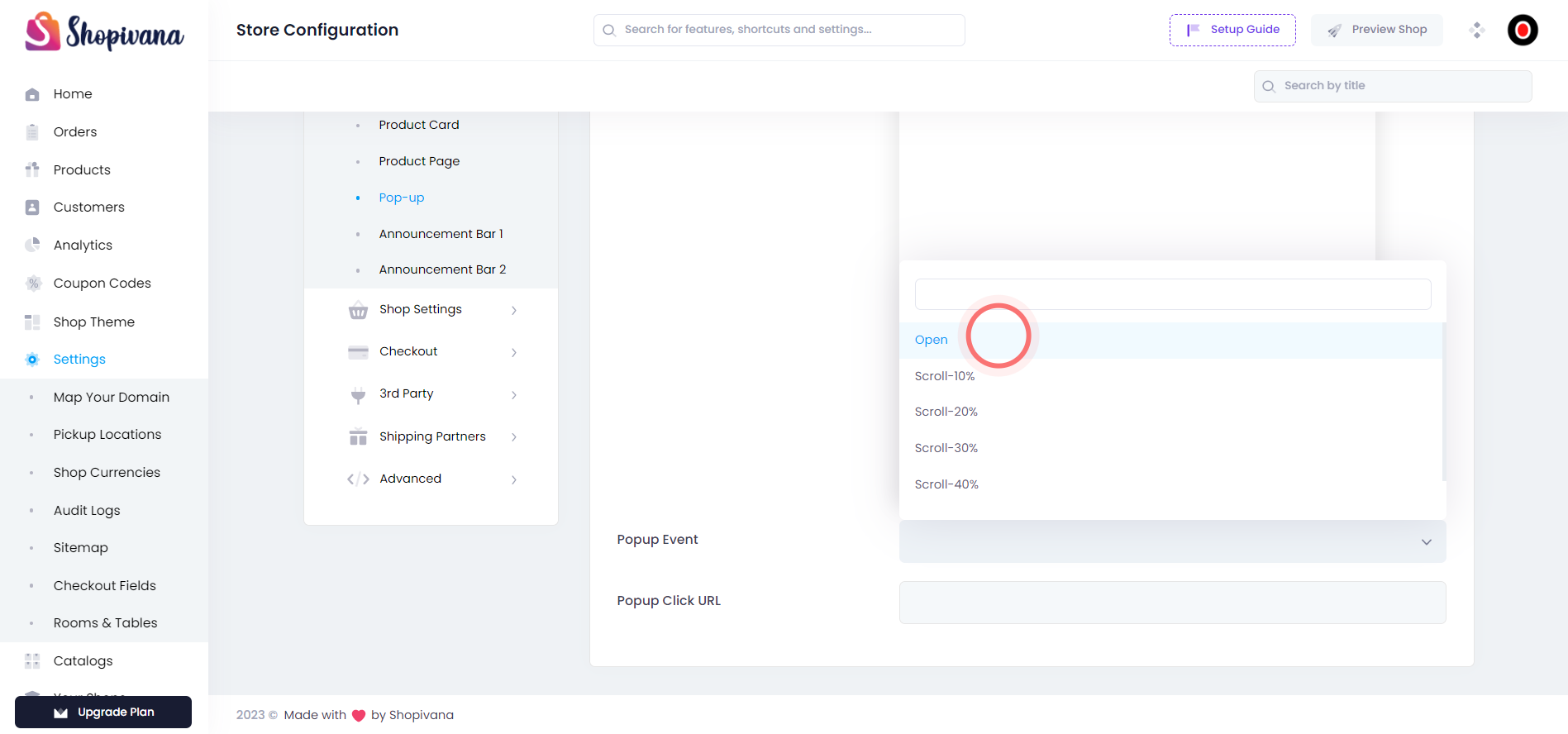 Announcement Bar
An announcement bar is a message at the top of your Shopivana store that informs
visitors about a promotion, a new stock alert, or a specific product that is on sale.
You can add an announcement bar to your online store to display important information
about your business like:

Any shipment delays or regions that do not accept export

Any new or updated policy pages

Any promotions offered at this time, such as for sale or new gift cards




Here's how you can add announcement bar in your website:
Go to Settings and click on 'Appearance'. Click on Announcement Bar 1

Add your announcement message, choose style, text color and bar color and add link you want to display when your customer clicks on the announcement message (optional).



Similarly you can add Announcement bar 2, if you have more details to show on the website at the same time.

Stock Scarcity

If you sell a limited quantity of an item, you can let consumers know about the stock level by using scarcity messages. For example, if you are selling a certain type of golf clubs, you can let consumers know about the stock level by using scarcity messages.




Here's how you can add settings for stock scarcity:
Go to 'Settings' and click on 'Appearance' to go to the Product Page setting.

Add the "Stock Scarcity Message", "Stock Scarcity Message Color", and "Scarce Quantity Level".
Shop Settings
Taxation
Define your tax rate to calculate automatically for all/specific products, you can price your product inclusive or exclusive of tax.
Add the Tax Rate in your downloaded product sheet or the product grid to calculate the taxes automatically. Once you have updated the tax rate in the products then follow the following steps to hide/show the tax rate to your customers:
Go to 'Settings' and click on 'Shop Setting and go to 'Taxation'.
Update the Radio button for "Show Tax Rate" to show/hide the tax.
Update the radio button for "Show Price Inclusive Tax" to show price with tax value to your customers.
Checkout Settings
Cart and Checkout
You may accept orders and process payments whenever you sell online using the Shopivana
secure checkout page. Customers' payment information is checked against your store's in-stock
items when they reach the payment method page of the checkout. If the products are available,
they are held for the customer while they complete their payment. If the product goes out-of-stock,
an error message appears. If a payment fails, the payment hold or abandoned payment status is
updated to the customers and in your admin order report.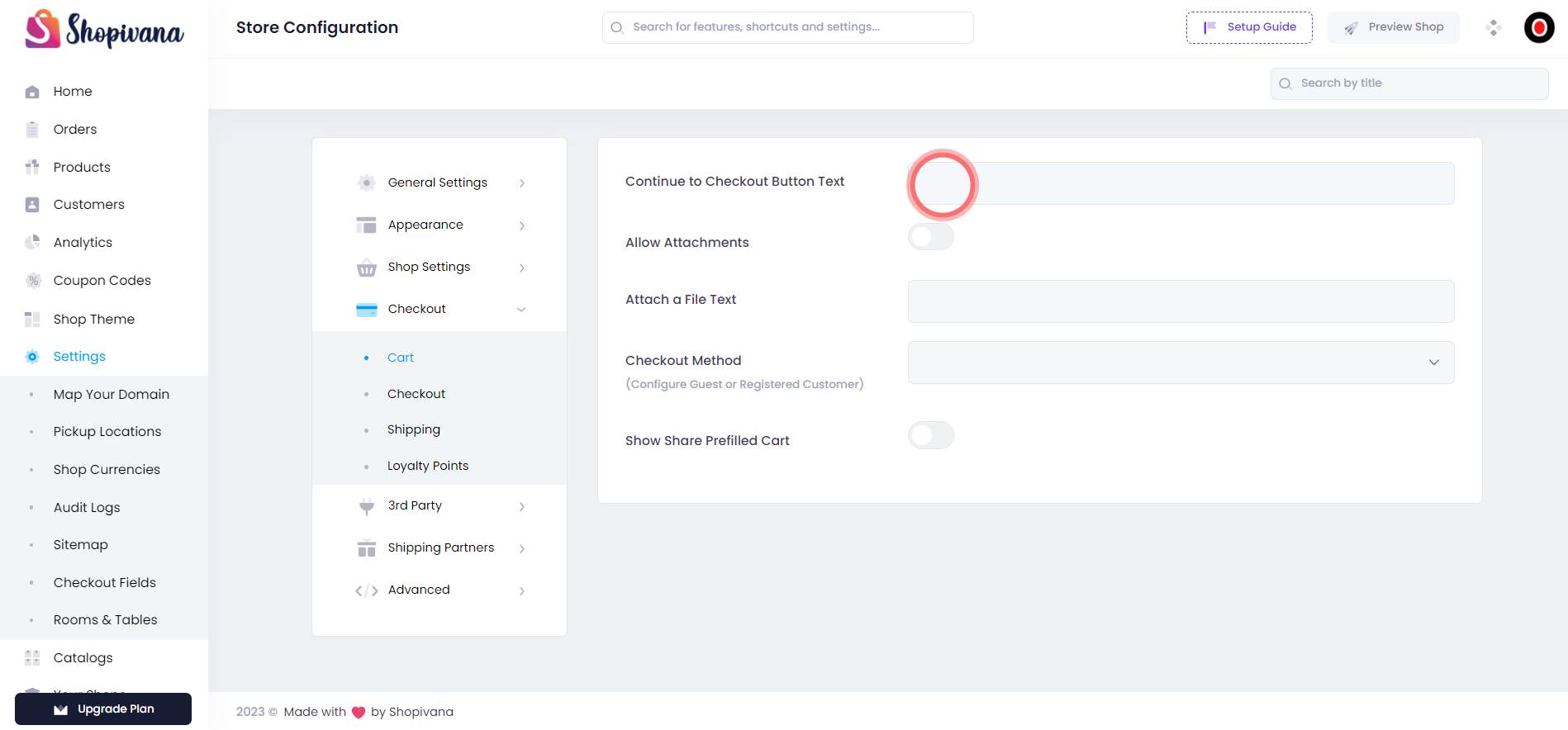 You can view and change your checkout details from the Checkout settings in your
Shopivana admin where you can Show/Hide the coupon list to your customers,
customize the Add to Cart button text, change the Checkout Button text, you can also
customize the checkout method i.e. whether you want the customer details with login or
want them to checkout as guests on your website, and many more.

You can also customize the checkout fields where you can collect information from
customers by adding/updating fields to the checkout, such as name, email, address,
pincode, etc. You can also add these fields as mandatory fields for the customer to fill
on the checkout page.

You can now enable a new feature called the partial payment in the checkout settings,
which lets you take a certain portion (a partial amount) from your customer on every
order with the Cash On Delivery option. Just add the percentage of the total amount you
want to take from the customer.
Loyalty Points
Using Shopivana Loyalty programme, create a one-of-a-kind loyalty programme for your
company. Build up long-term customers who are enthusiastic about your brand by using
this programme. Customers accumulate loyalty points by making a purchase on your
website.

When they have enough points they can redeem them on their next order. You can also
customize the name and payment method for your loyalty programme to match your
brand.
To create loyalty program for your website, just go to Settings, and:
Under the checkout tab, click on 'Loyalty points'.

Enable/disable Loyalty points.
Points Calculated on: Change the amount type on which points can be calculated on i.e. on subtotal or total amount.

Rewards Points per Order: Add the percentage of reward points to be added per order
Single Point Value: Set the value of the single reward point in Amount.
Max. Points per Order: Add Maximum rewards points per order in percentage that customer can redeem on the next order.
Loyalty Program Name: Create a name for the Loyalty Program
Loyalty Points Payment Method: Set the Payment method on which loyalty point is applicable. It can be either COD or Online Payment or both.



Note: Loyalty Points is only valid for the users registered on your website, not for guest users.
3rd Party
Payment Gateway
Important:
You must upgrade your website to a Premium plan in order to accept online payments.
Shopivana allows you to accept online payments or get COD for your products or services without missing out on sales on your ecommerce website. You can choose online payment gateway or COD as a payment method in most countries. Please note that payment methods and providers vary by location.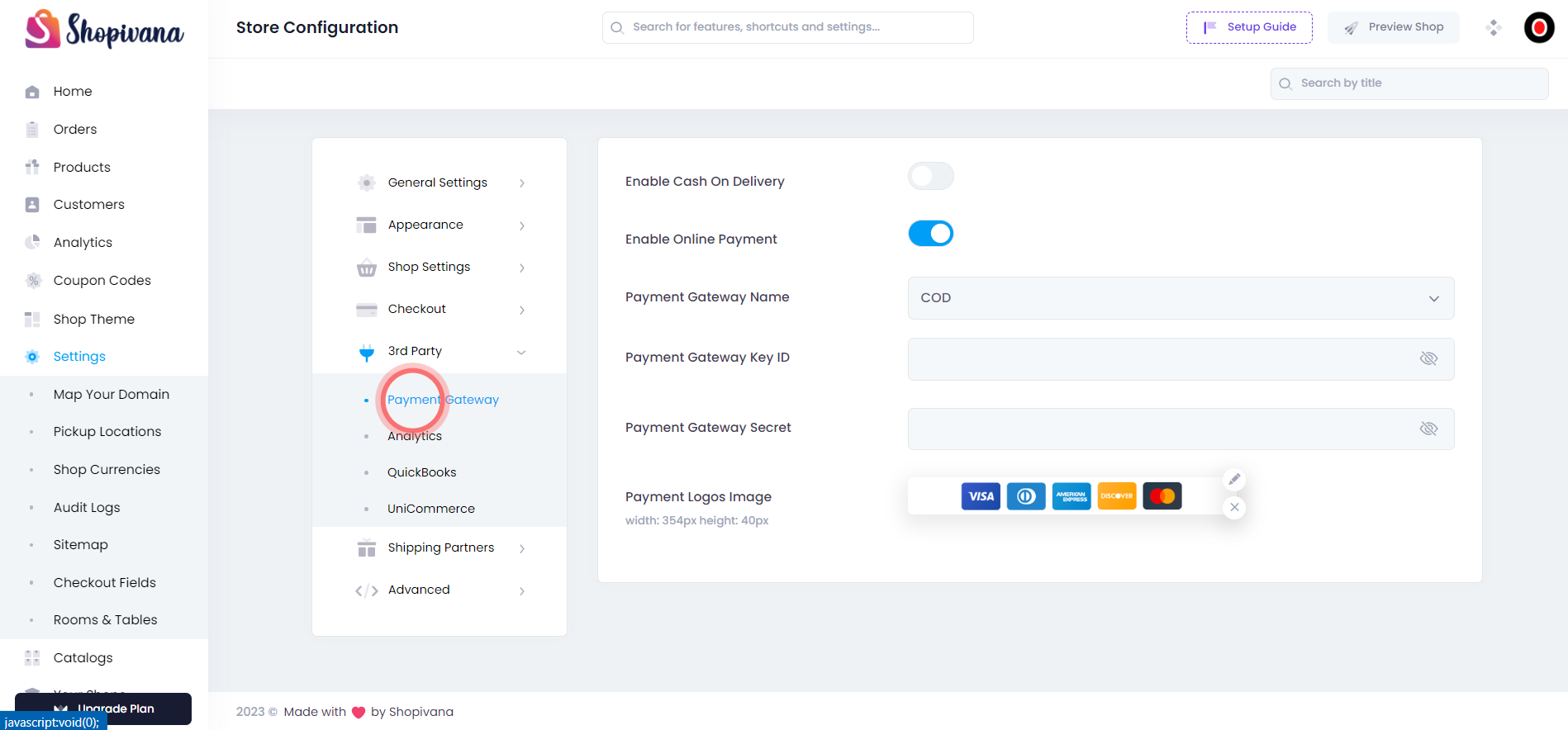 You can add payment details in the Payment Gateway in 3rd Party tab under Settings:
Enable Cash on Delivery.
Enable Online Payment.
Select Payment Gateway Name from the dropdown menu.

Add Payment Gateway Key ID and Secret Key.

Optional: Add Payment logos image