How to Get Started With Shopivana
Setting Up Your Business Information
Now is the time to add the basic business information for your store. While you do not need to include every detail right away, make sure to include the following:
1. Shop Name
2. Brand Name
3. Brand Logo
4. Shop Contact Mobile
5. Address
To add your shop information follow the below steps:
Step 1: From Shopivana admin panel, click on 'Home' and then go to 'Shop Profile'.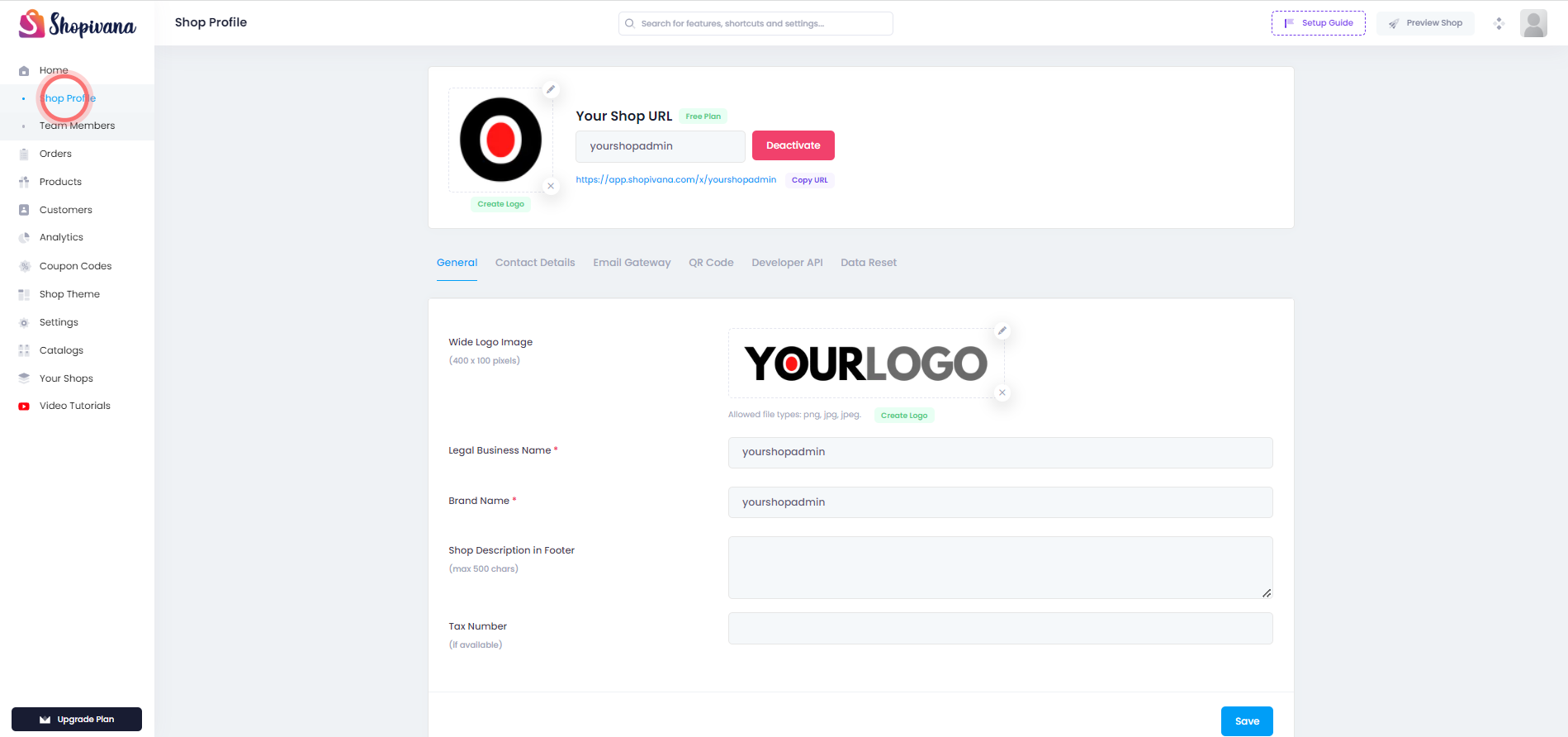 Step 2: Add your brand logo in size 100x100 pixels (Aspect ratio 1:1). This logo will be your website's favicon icon.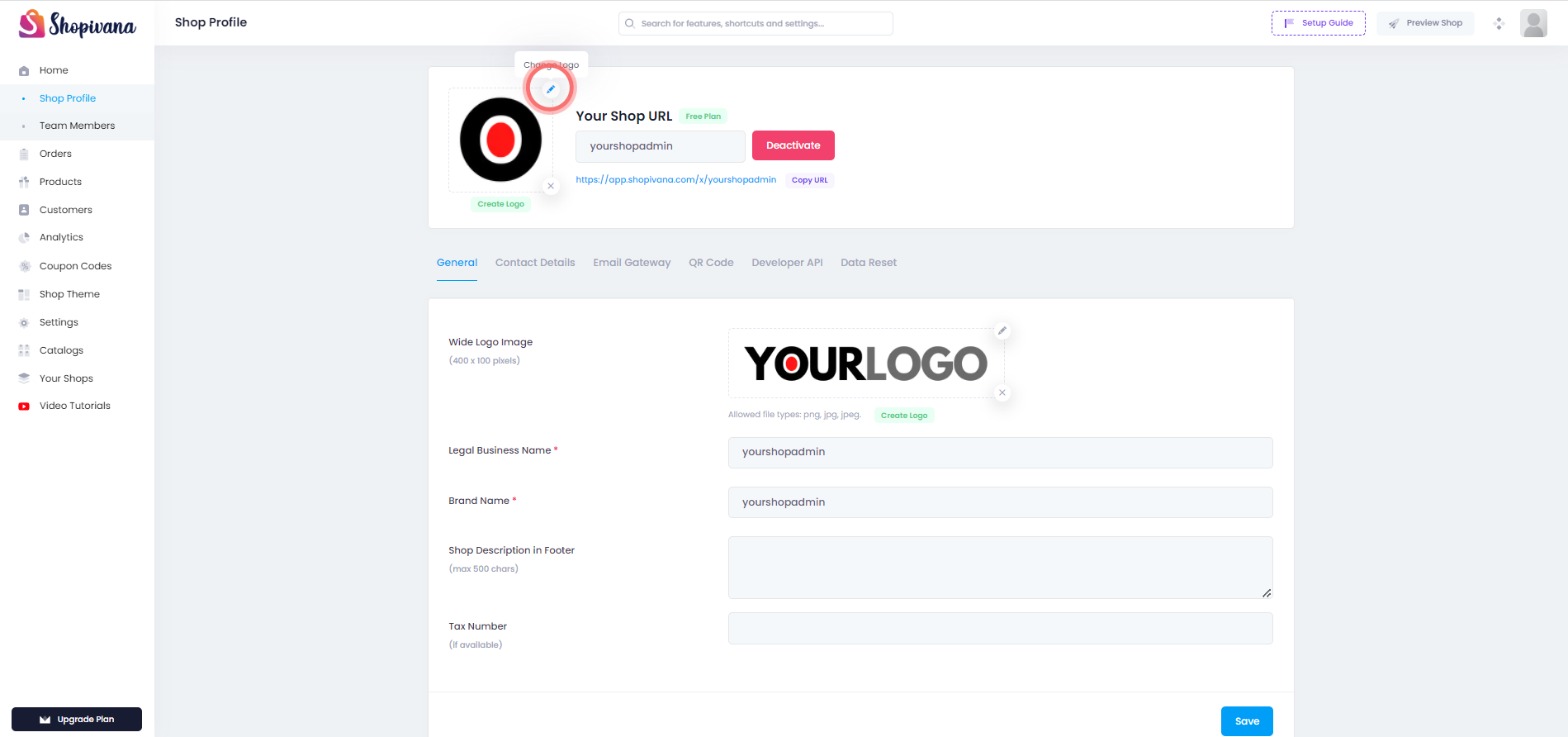 Step 3: Add Shop Logos and General Details
Go to 'General Section' and add the following details: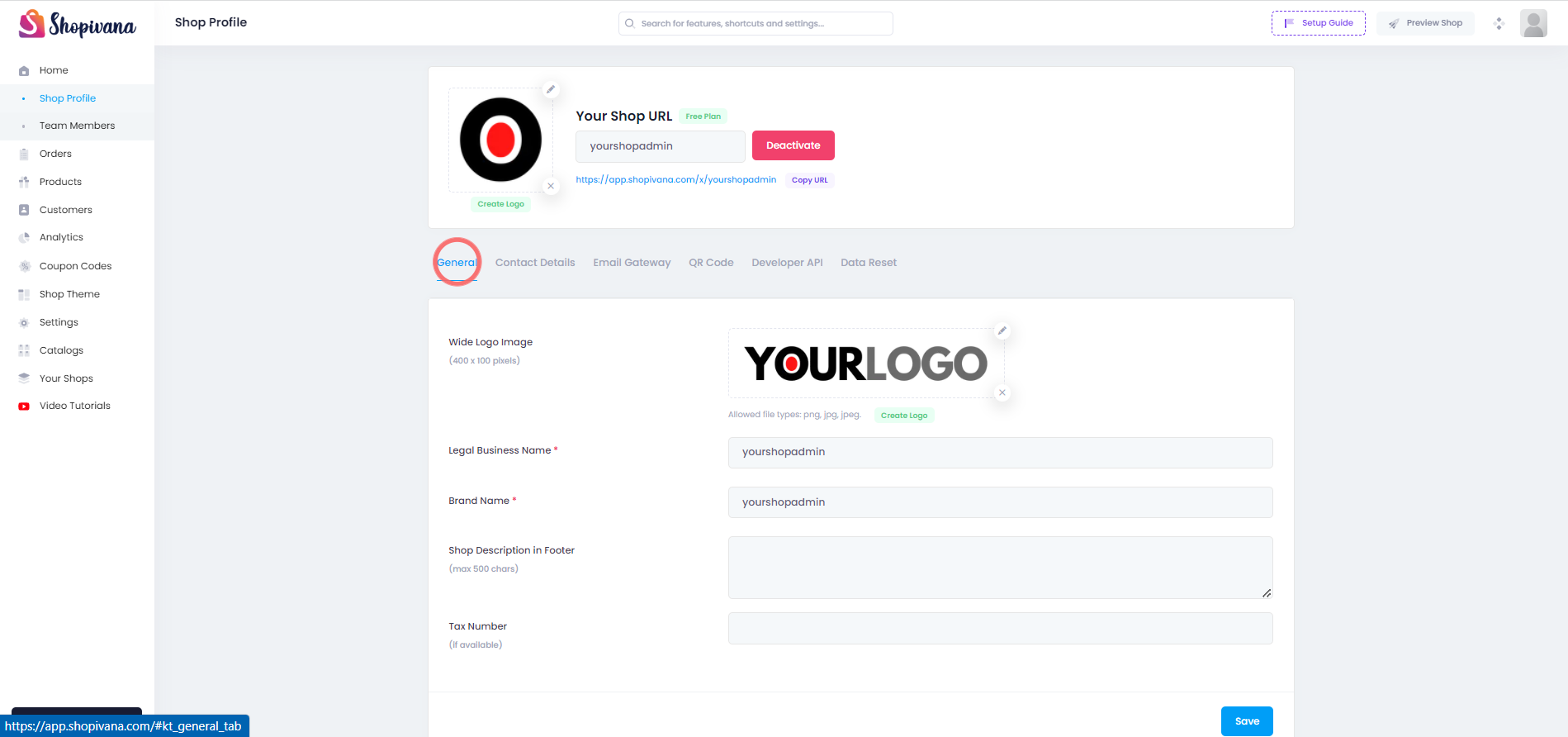 Add brand wide logo image in size 400x100 pixels in allowed file type: png, jpg, jpeg. *Note: In case you don't have any brand logo, you can create a logo quickly using the 'Create Logo' option.
Enter 'Shop Name' and 'Brand Name'.
[Optional] Add 'Shop Description', you can add a short tagline (upto max 500) about your business.
Add 'Tax Number' (if available).
Click on 'Save' to update all your changes.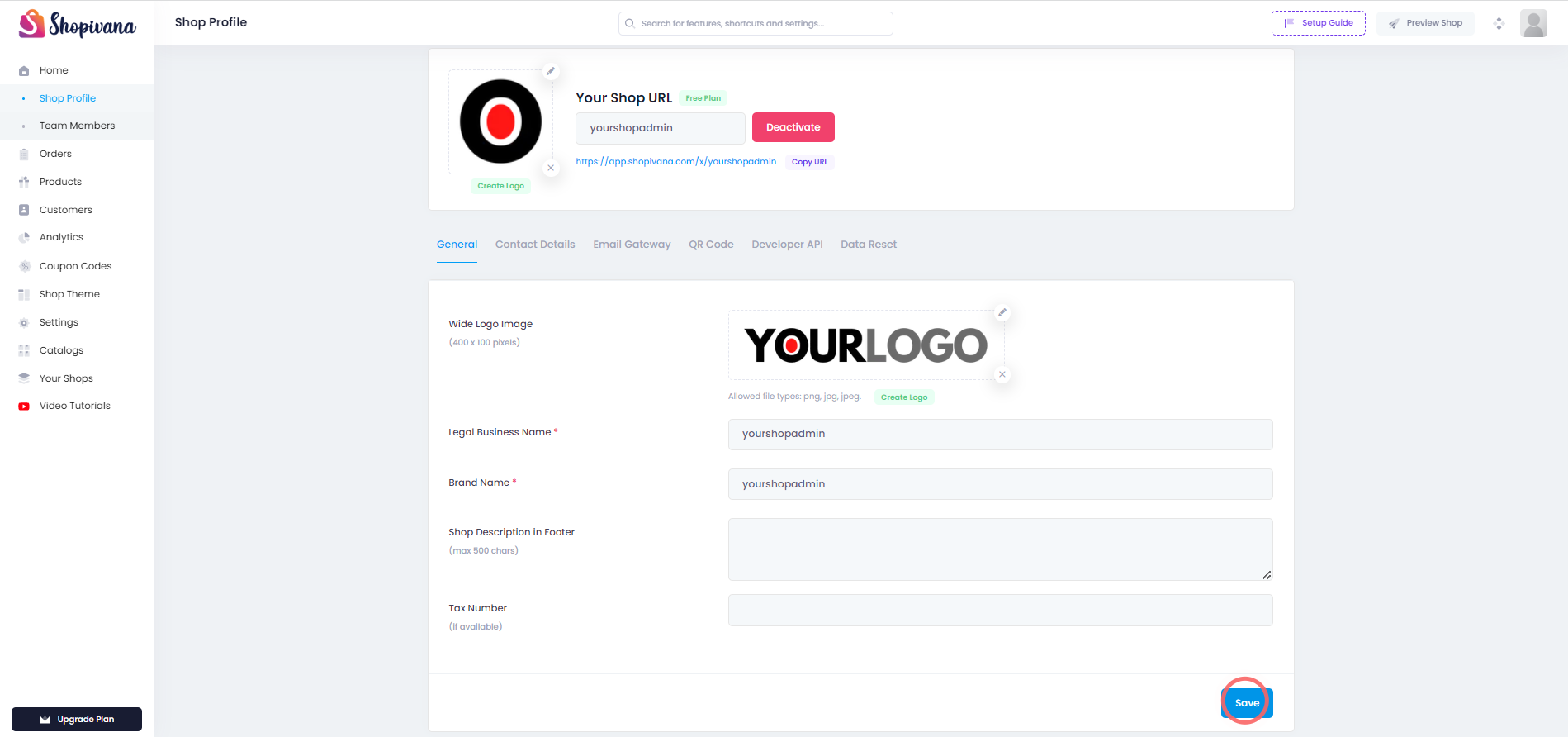 Step 4: Go to the 'Contact Details' Section
Under this section; update the business address, shop contact email and shop contact Mobile. Click on 'Save' to update on the changes.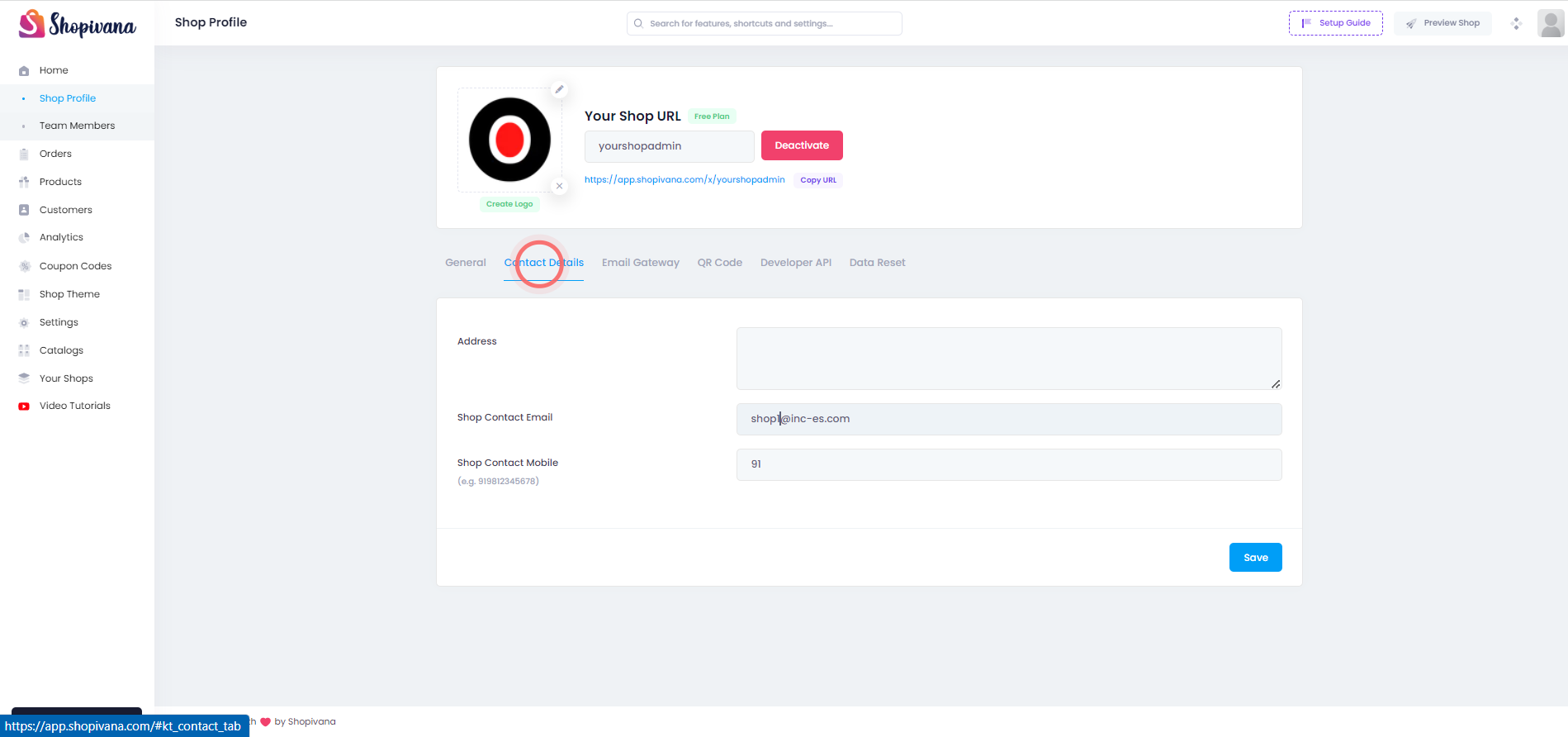 Step 5: Configure Email Gateway or Sender Email (Optional)
Email gateway details used to send order confirmation to customers when they place an order or enquiry on your website. This email address is a customer facing email that is displayed in the'From' field when your customers receive an order confirmation mail or any marketing emails from your business end.
Your sender email address might appear like sales@domain_name.com or contact@domain_name.com. These business emails you can either purchase from your domain provider or you can use any email gateway like Zoho, Gmail, Ionos, and more to create generic emails like info.brandname@gmail.com.
Follow the steps to configure the email gateway.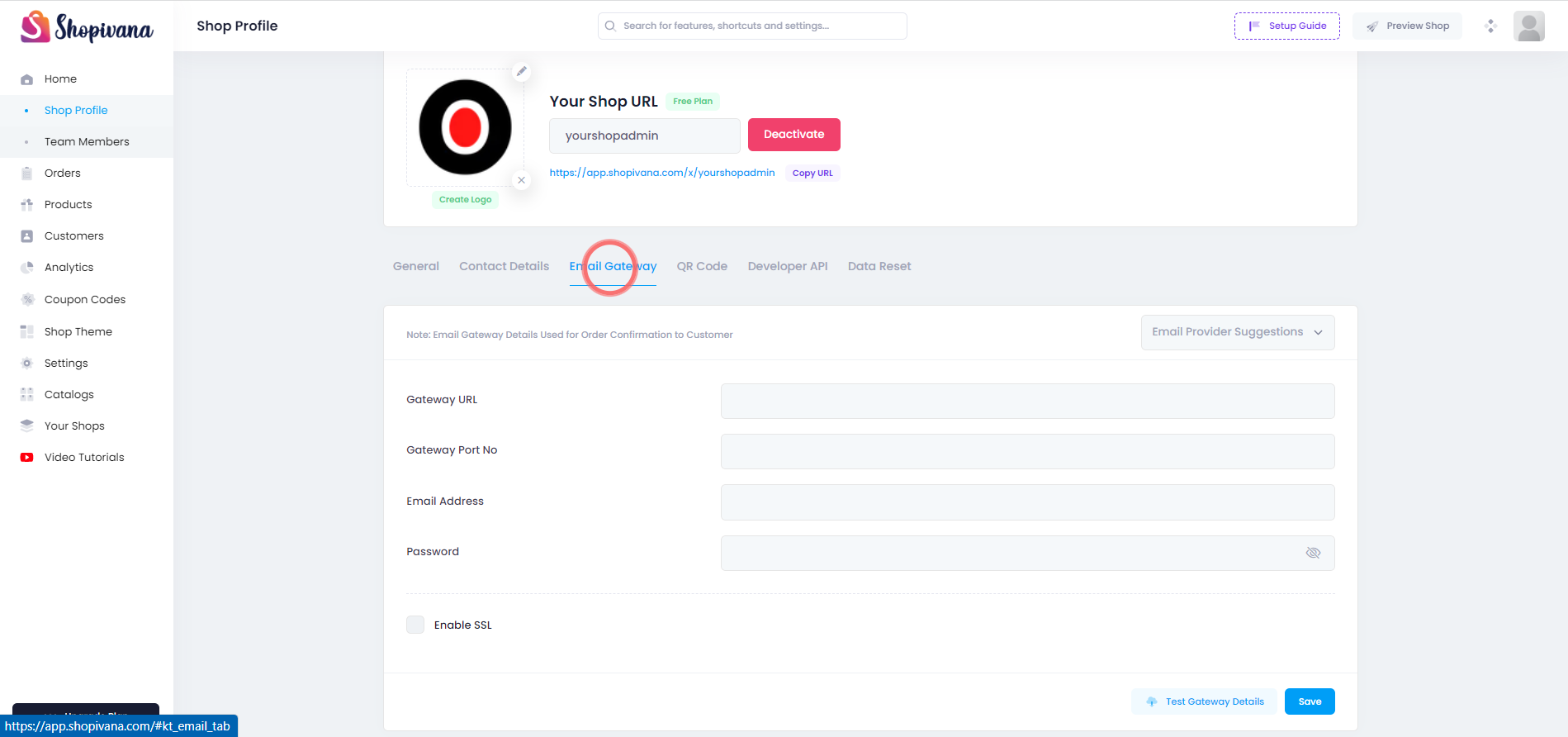 Add Email Gateway URL or SMTP port url.
Select your Email Provider from the dropdown. In case your email provider is not available in the dropdown option, then you can easily Google other email gateway URLs. For example, if you have an Email ID created using Yahoo, then you need to add 'smtp.mail.yahoo.com'.
Add Gateway Port Number or SMTP port. For example, the SMTP port number for Yahoo is 465.
Enter your 'Email Address'.
Enter your'Password' associated with your email address.
Tick checkbox to 'Enable'. Now click on 'Test Gateway Details' and wait till a pop up for 'Test Mail' sent successfully appears. Please note, that testing a gateway details, might take upto 2 to 3 attempts to send the mail successfully to your mail id.
Once mail is sent, click 'Save' to update all the changes.
Step 6: Get a QR Code of Your Shop (Optional)
To download the QR Code of your shop, right-click on QR Code, then save as image. You can share it with your existing customers or add to your social media to direct your customers to your online shopping site
You can also put QR codes in your product packaging, flyers, and more to direct your customers to your website.